Expert opinion: hazardous drug exposure of healthcare workers
The use of hazardous drugs (HD) for example cytotoxic drugs to treat cancer, has increased exponentially over the last 40 years.1 Sadly, however the awareness of the risks in administering HD has not increased at the same rate.1 A nurse must uphold a professional standard as set out by the Nursing and Midwifery Council.2 This includes practising effectively and preserving safety. Therefore, it is an imperative part of the nurse's role when administering HDs that they are aware of the risks, guidelines and recommendations for handling these drugs to ensure safe practices are adopted.  A nurse must also educate their colleagues on the risks associated with handling HDs and act as a role model in adhering to recommended guidelines. Unfortunately, within the UK, guidance and recommendations are not mandatory and there are no repercussions if these are not followed.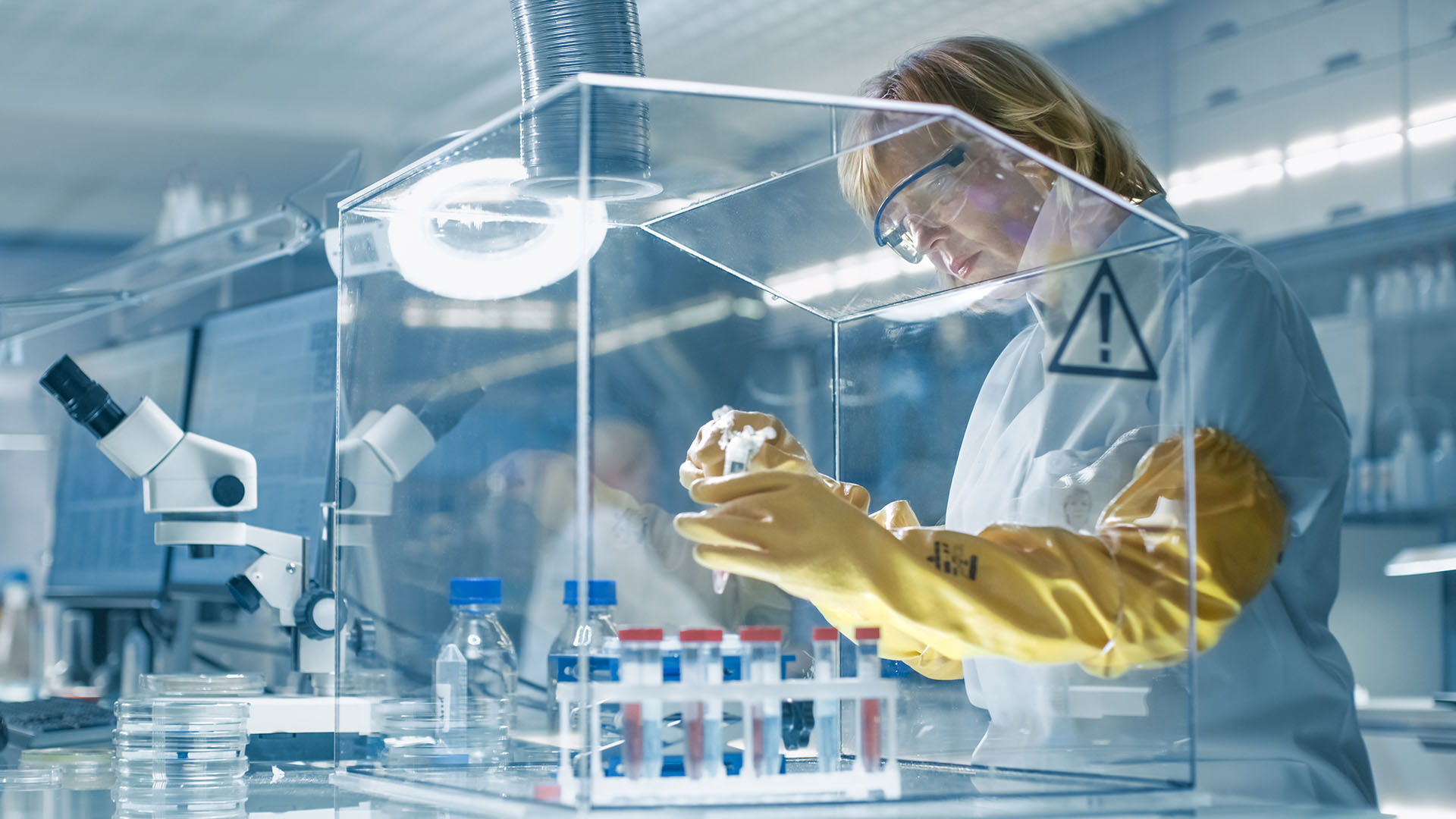 Engineering Controls
There are measures that can be taken to reduce the risk of occupational exposure to HDs during administration tasks. These include use of closed systems for administration, use of appropriate personal protective equipment (PPE), use of closed waste systems and effective training and education. There has been much debate around the use of closed systems for administration due to a lack of reliable research to support their use, specifically during administration in the real-world setting. The UK Oncology Nursing Society (UKONS) commissioned a Cochrane review which concluded that the use of closed systems in administration could neither be supported nor refuted.3 However, this was based on 23 studies, 21 of which were based in pharmacy areas, not clinical administration areas.
PPE use can vary from one hospital to another. While it is generally accepted that gloves and plastic aprons should be used as a minimum, very few hospitals extend further requirements to gowns, goggles and respiratory protection. These are mandated in other countries such as the US, where the USP <800> guidelines dictate that all areas administering hazardous drugs require full PPE to include gloves (within specific set standards) gowns, eye, and respiratory protection.4 This is also in stark contrast with PPE use within pharmacy reconstitution / manipulation areas where again, full PPE is mandated when handling hazardous drugs.
The USP <800> guidelines, whilst it only applies to the US, does mark a significant change in the protection of healthcare workers within this area as it mandates the use of closed systems, as well as other organisational measures and appropriate PPE. We would love to see this replicated here in the UK as this would significantly improve the protection for our staff when handling hazardous drugs.
There is some guidance available within the UK around the use of engineering controls. The Health and Safety Executive (HSE) specifies a hierarchy of control measures in the following order:5
use totally enclosed systems were reasonably practicable.
control exposure at source e.g., by use of extraction systems / organisational measures
issue PPE where adequate control cannot be achieved by other measures alone.
However, this is not mandated and therefore can be open to interpretation around what hospitals deem to be 'reasonably practicable'.
In the UK, we also have the Yellow Cover Document which provides greater and more specific guidance around administration, but this specifically relates to intravenous Cytotoxic drugs, and not other HD's.6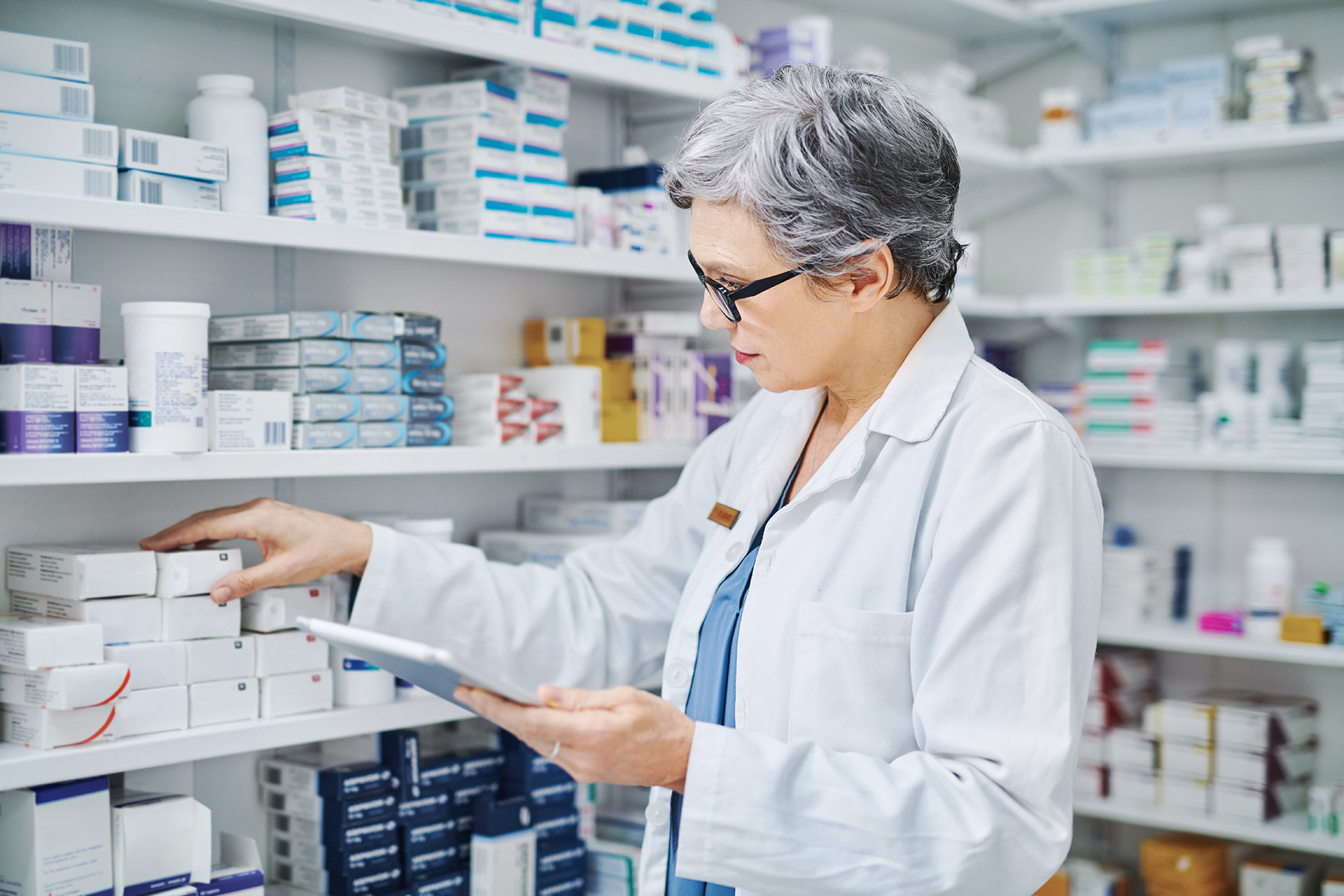 Major barriers and difficulties
Nurses handling HDs face numerous barriers and difficulties. There is limited UK data specifically looking at nurses who handle and administer these HDs, and the effectiveness of closed systems. Therefore, more research is needed to address nurses administering HDs and confirm that these systems do indeed reduce exposure risk during the administration process.  Cost of these devices is also a major barrier particularly within the NHS and introduction of these safety devices can be problematic.
There is disparity across professional groups in handling HDs, within a pharmacy setting what is expected in handling these drugs is very different from what is expected in handling and administration of these drugs by nurses. Within the pharmacy setting the recommendations and engineered controls are more robust.  This needs to be applied consistently across all professional groups and settings.
The lack of awareness of risk poses difficulties. There is also a culture of resistance to change, some nurses may have handled HDs for many years and have had no adverse effects and therefore may not be motivated to change their practice. Clear mandated policy and high-quality training and education is vital to help change this attitude.
Overall, in the UK there is great variability in the measures taken to reduce exposure risk and inconsistency in practices, which ultimately lead to some health care professionals being open to an increased risk of occupational exposure to HD's. This is unacceptable, particularly in an era of increased HD usage with unknown long-term effects of exposure to many new drugs in use. We want to see this issue being taken more seriously with legislation that would mandate greater control measures to be put in place for administration of these drugs. Legislation should include use of closed systems and appropriate and specific PPE to ensure adequate protection of our healthcare workforce.
References
1. Simons A, Toland S. Systemic anticancer therapy handling safety: healthcare workers' awareness, knowledge, training and use of protection measures. Cancer Nursing Practice 2019;18:38-42.
2. Nursing and Midwifery Council (NMC). The Code: Professional standards of practice and behaviour for nurses, midwives and nursing associates.; 2015. Available at: https://www.nmc.org.uk/globalassets/sitedocuments/nmc-publications/nmc-code.pdf. Accessed November 16, 2021.
3. Gurusamy KS, Best LM, Tanguay C, et al. Closed-system drug-transfer devices plus safe handling of hazardous drugs versus safe handling alone for reducing exposure to infusional hazardous drugs in healthcare staff. Cochrane Database of Systematic Reviews 2018;2019. Available at: http://doi.wiley.com/10.1002/14651858.CD012860.pub2.
4. USP. USP General Chapter <800> Hazardous Drugs – Handling in Healthcare Settings.; 2017. Available at: https://www.usp.org/sites/default/files/usp/document/our-work/healthcare-quality-safety/general-chapter-800.pdf. Accessed November 16, 2021.
5. Health and Safety Executive (HSE). Safe handling of cytotoxic drugs in the workplace. Available at: https://www.hse.gov.uk/healthservices/safe-use-cytotoxic-drugs.htm.
6. Mark Santillo, Allison Field, James Henderson, et al. Guidance on Handling of Injectable Cytotoxic Drugs in Clinical Areas in NHS Hospitals in the UK.; 2018. Available at: https://www.sps.nhs.uk/wp-content/uploads/2018/07/Guidance-on-Handling-Cytotoxics-Ed-1-July-2018.pdf. Accessed November 16, 2021.
Want to learn more about engineering controls? Check out these learning modules.
Safe preparation and administration of hazardous drugs >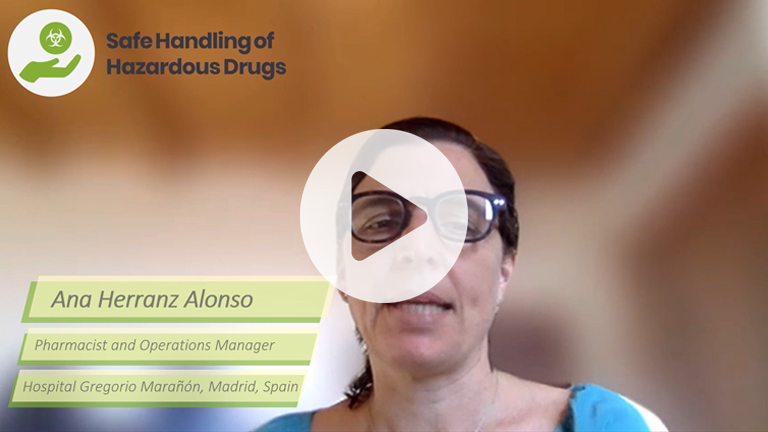 Key questions on who is at risk of exposure to hazardous drugs in hospitals
Dr Ana Herranz explores who is at risk of exposure to hazardous drugs, what precautions are put in place to protect them, who has responsibility for ensuring their safety and what guidelines and legislation exist to protect them. Watch her intro video or go direct to the module!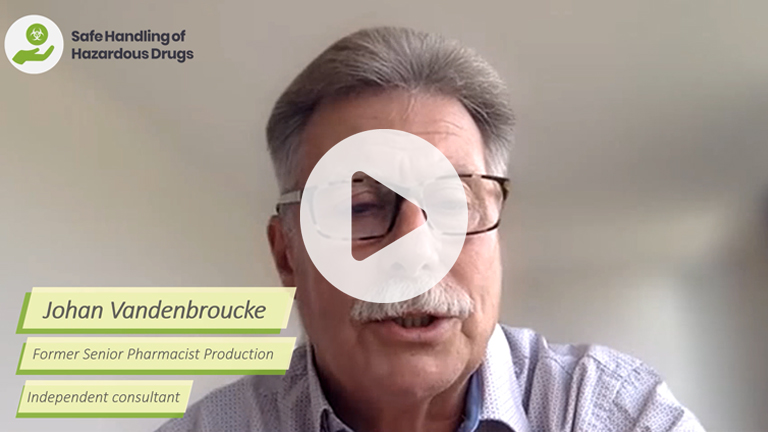 What elements are important in a quality control system for the safe handling of hazardous drugs
Hospital staff, patients and visitors are all affected if hazardous drugs are not handled safely. This module examines best practice in the preparation, administration and waste management of these drugs. Play the video to watch Johan Vandenbroucke introduce his updated module.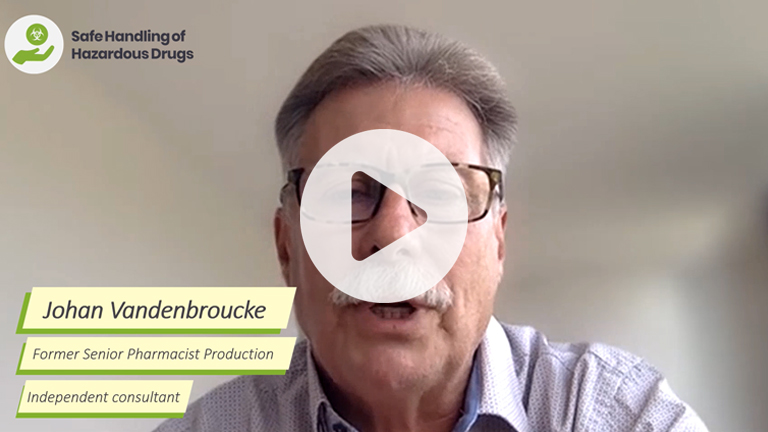 How is product quality and integrity assured on the pathway from vial to vein
All healthcare professionals, and especially hospital pharmacists, need to concern themselves with ensuring the quality of injectable medications. This module explores the technologies used to maintain product integrity from preparation to administration. Watch Johan Vandenbrouke briefly introduce his updated module.